Always have a backup plan or 2 or 3!
This has never been more true than one of my recent most popular images 'Golden Lonesome'.  I planned this trip to Wales days in advance as usual with the view to photograph the Nantygwryd River with its majestic overhanging trees full of autumn colours.  I planned my shot in detail from position down to the time of day when the sun would be in the exact place I wanted illuminating the scene making the tree leaves pop with vibrant autumn colours.  The weather forecast was good, sunny spells with little cloud so everything was looking good for the shoot.
When your travelling nearly 3 hours to get to a destination to take a photograph the last thing you need is to get there and the weather or some other factor influencing your shoot making the whole trip a waste of time.  This is a part of the course when it comes to landscape photography and what makes it so challenging and difficult but also so rewarding when everything finally comes together.  Sometimes things happen you can't plan for, like hiking up a mountain for a sunset shoot to be foiled by fog and cloud.  When this happens you take it on the chin as you rarely have time to go elsewhere but for this trip to Wales my planned vantage point was only half a mile hike from the car so I knew if anything did happen I could travel to my 2nd choice destination.
My contingency plan would be to head to Snowdon where snow was setting above 600 meters and little wind was forecast.  There was a little cloud cover which could make for a nice sunset so I decided I could head to Llyn Llydaw and get a nice reflection shot of a snow-capped Snowdon at sunset.  As usual I planned my vantage point where I could get the best shot and where the sun rays would fall as the sun went down.  I had the image in my head of what I wanted but wondered whether there would be sufficient snow and also worried about the wind factor when it comes to try and get reflection shots so decided to have 1 more alternative in the bag.
My 3rd and final choice was Llanberis where I thought I could get a shot down the lake with the Snowdon Mountain Range and Glyderau in the background.  The sun was setting behind me so I knew if all else fails then this was an option so I set about planning this shot as like any other with vantage point, possible compositions and timing.
[Google_Maps_WD id=2 map=2]
I was up early that morning and again checked the forecast before I left the house, nothing had changed so full of optimism off I went.  On the drive down into Betswy Coed the Autumn colours of the leaves were stunning and I got quite excited thinking this was going to be a good shoot but the cloud seemed to be getting a lot thicker and I couldn't see me getting any of the sunny spells predicted.  I arrive at my destination got my gear and wondered down to my vantage point but as soon as I approached I knew I had gotten this wrong.  I was literally a few days to a week late.  Leaves had already fallen which left patched in the trees and this coupled with the thick cloud cover and now starting to rain I just wasn't feeling the shot.  I had a good look around to scout out the view for the future and decided to abort and head to Snowdon.  It was now early afternoon so I spent an hour in betswy-coed looking in the outdoor shops before heading off.  For those who have never visited this little town it really is a beautiful place especially in the summer but it does get very busy, definitely worth the visit.  Now the rain was starting fall quite heavily and sky very dark but I thought that's ok as you get the best dramatic shots when the weather is like in this the mountains so I felt quite optimistic.
I pulled onto Snowdon main car park at around 16:00 and then the heavens opened.  I battled against the wind to open my car door,  Ummm this is not good!  It was now starting to hail with driving winds a storm was coming so I put on my waterproof and decided to hike up to Llyn Llydaw before it started.  It's about an hour or so walk and I was about 30 minutes in when it seriously started to hail, it was horizontal straight into my face with driving winds making it hard to breathe.  I really wanted to keep going as I knew these types of condition produce the most dramatic shots but it was so heavy it would have been difficulty keeping the lens dry to get a shot.  I decided this was not going to work and turned back to the car, 3rd and final destination here I come!
The drive down the pass showed how much rain, hail and sleet was coming down in the mountains as the streams were all in flood.  I pulled up and headed to my destination close by but rushing worrying about the time as I had around 15 minutes before sunset I left my rain cover in the boot of my car.  I just composed my shot then all of a sudden the wind picked up and the hail storm began.  It hammered it down I couldn't keep my lens dry and didn't have time to go back to the car and watched the sky turn from white to grey to pink to grey in 2 minutes.  I fired off a few shots but didn't get the shot I wanted.  I composed myself dashed back to the car to get my cover and when I returned the rain started to ease and the wind dropped.  I was confident I would get the shot if I waited it out and let it blow over, with the sun setting Golden Lonesome was my final shot.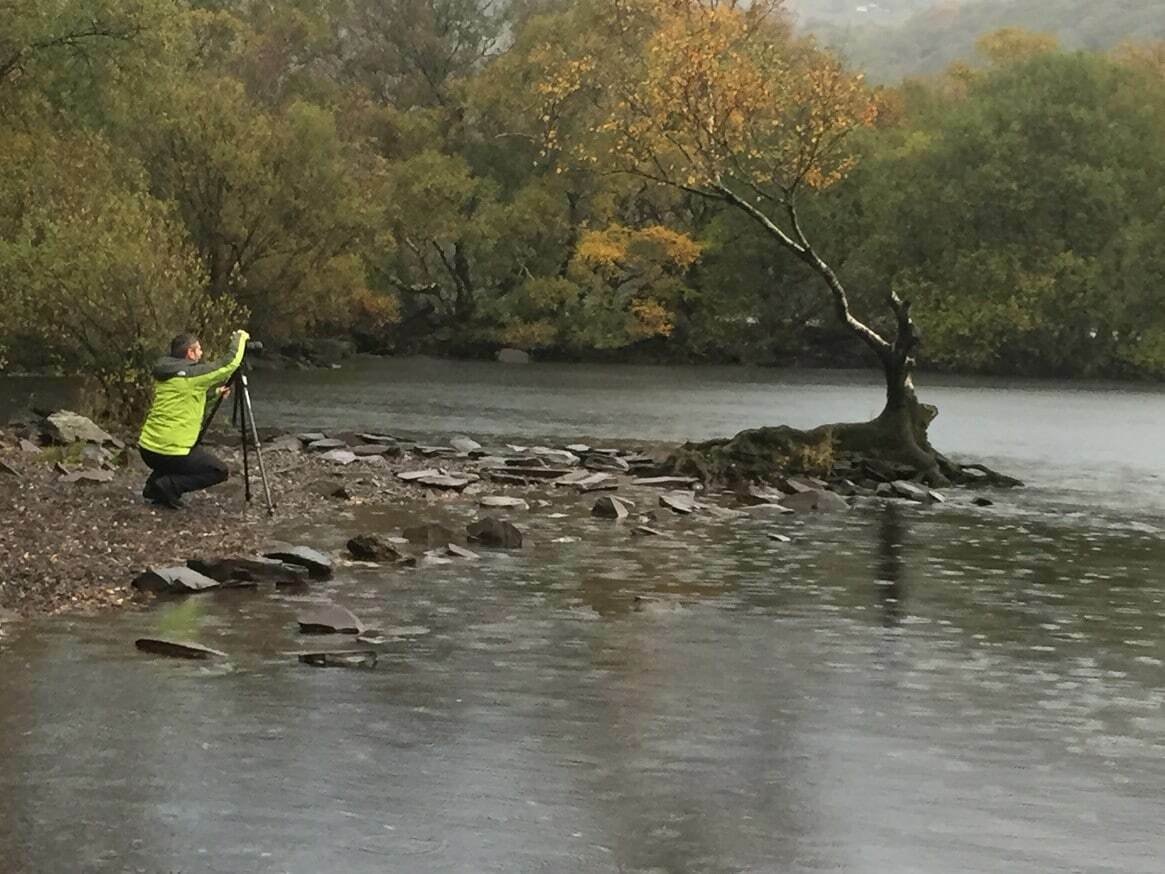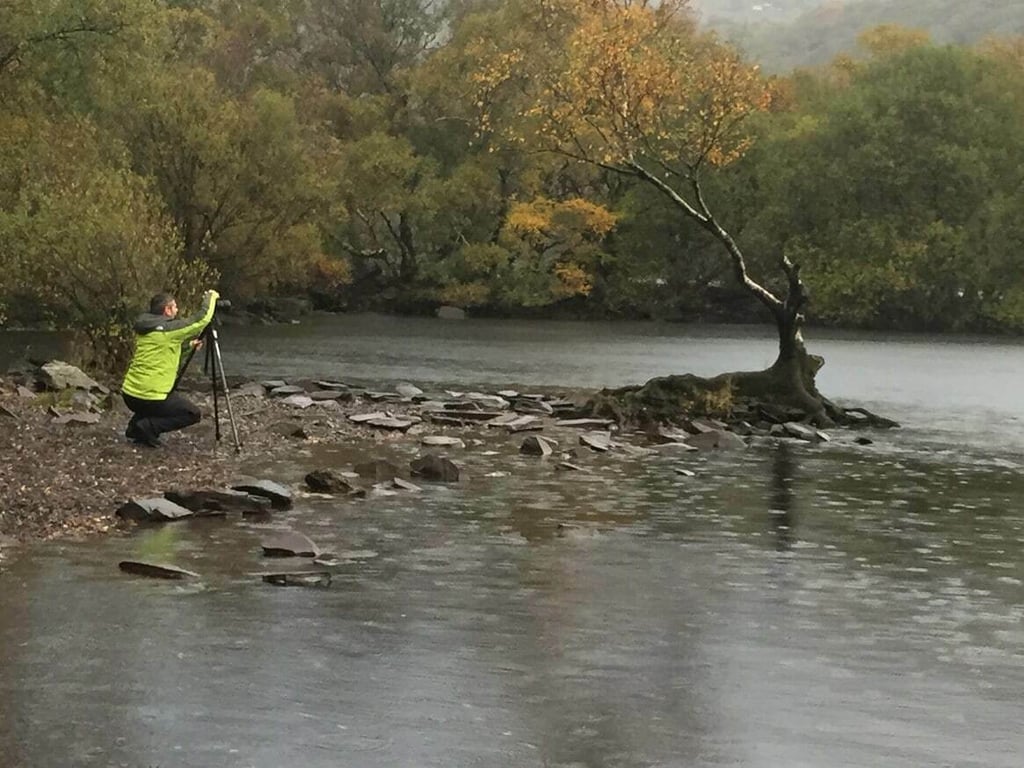 Persistence, planning and more planning with contingency plans allowed me to come away from my trip with a shot that I was very happy with.  Always plan and always have a backup when you can otherwise it would have been a wasted trip for me or I would have just come home with an average shot that I took out of desperation.
With years of experience and a number of award winning photographs Nigel Waters is a UK landscape photographer based in Worcestershire.  With a passion for the great outdoors and continually chasing the light to capture beautiful photographs his landscape, seascape and nightscape photography will give you inspiration to get out and explore the best British landscapes have to offer.