We have all done it at least once and if you haven't you most likely will at some point and that is accidentally deleted photos or videos you didn't mean to.  So here I will explain how to recover data from formatted SD cards and the software I use.
I know this sounds stupid right?  How can you accidentally delete photos or videos?  This would never happen to me!
Well this is exactly what happened to me recently at 3:00am in the morning, tired in total darkness while photographing the milky way I swapped out a full memory card and replaced it with a fresh one.  Well at least I thought I did but instead I put the card in the wrong pocket of my camera bag and and when I reach for a fresh one it was actually the same SD card I took out.  In a total moment of madness while rushing not to disrupt my series of images I formatted what I thought was a fresh memory card without even checking what was on it!
As soon as I selected format and the Format complete flashed up on the back of the camera I suddenly got that sick sinking feeling in the pit of my stomach.  I don't know how I knew what I had done I just had that horrible feeling so I swapped out the card and loaded another just in case hoping if I had deleted all my photos that somehow I could recover them when back home.
I am ashamed to say it but I had deleted all my photos which left me scouring the internet to find some software that could possibly recover my images.
You think it would be easy to find decent reviews and software for a Mac to recover deleted Photo files but I found most were written by people that had obviously never even tested the software they were reviewing or stating software was free when it was not.
Here is my unbiased review on the different software packages I tried and I give you my thoughts on which I feel is the best and why.
My Testing Method
In order to carry out a true review of these software packages I performed the same test on each one of them where I tried to recover image and video files from a Nikon D750, D810 and Mavic 2 Pro.
Memory Cards used were:-
SanDisk Extreme 32GB SD Card Containing 44 Raw .NEF Nikon D750 image files
SanDisk Extreme 32GB SD Card Containing 102 Raw .NEF Nikon D810 image files
SanDisk Extreme PLUS 128GB Micro SD containing 59 .DNG files & 13 .MOV Mavic 2 Pro Drone files
For each memory card I carried out recovery tests after both formatting each SD card on their respective devices and then carried out the same test after a full format using the Mac DiscUtility Tool.
All the tests were carried out using Mac versions but there are PC windows versions available for all the software reviewed here but please bear in mind results may be different.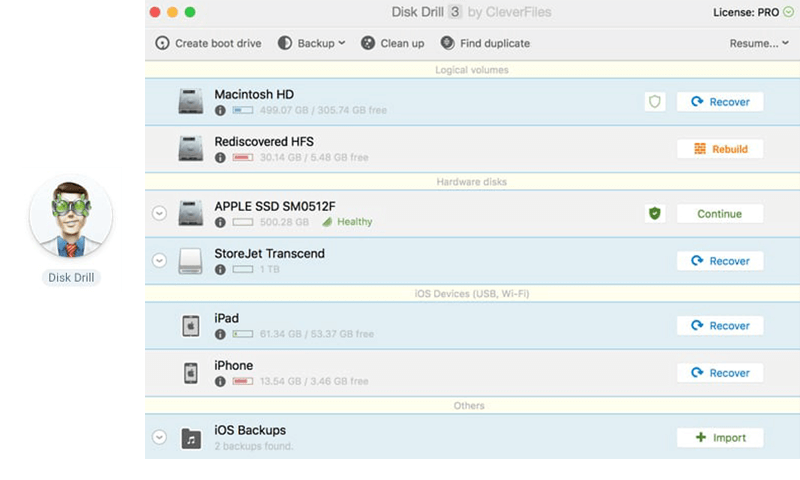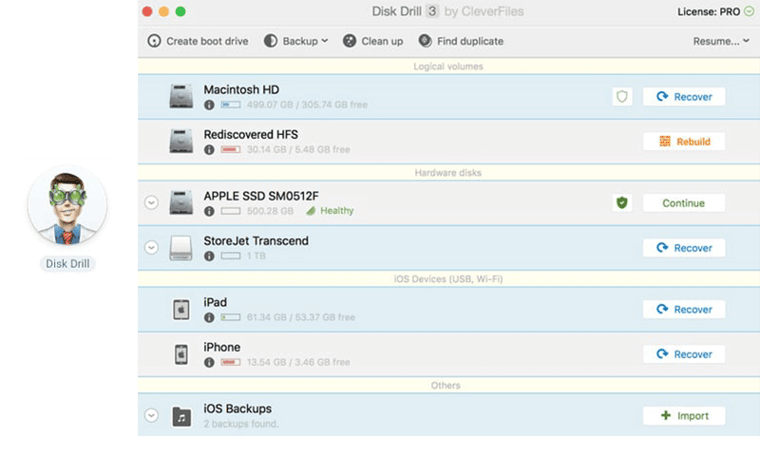 First software on my list is Disk Drill which is claimed by many review sites to be the top free recovery app for the mac OS.  So first of all let me just put this right to recover files from a formatted memory card the application is not free!  Most people will be searching for software after they have accidentally deleted their images after formatting and to use this software in this scenario you will have to pay to recover your files.
Disk Drill does have some great functionalities such as image preview capabilities which I found great so you can drill down and just recover the images you want rather than recovering the entire card content.  This is extremely useful if you have a large storage device to speed up the process of recovery.
It also has Recovery Vault and Guaranteed Recovery, lost partition restoration and a boot disk maker so you can utilise the software in a number of different ways.
Disk Drill – Installation
The installation process for Disk Drill is certainly not overly complicated where you just install the software like any other .dmg file and drag it to your applications folder.  There is an additional step that needs to be performed in the setup process which is granting access for the software to your hardware.  This is very simple though as it has a quick link button in the setup procedure which guides you through the process to authorise access and grant the necessary privileges.
Disk Drill – Test Results
It took around 8 mins to perform deep scans of the SanDisk Extreme 32GB SD Memory Cards where it found all of the Nikon Raw files that had been deleted by both types of formats and more old previously deleted files.  The total size of recovered data was 39.43 GB in a total of 3267 files.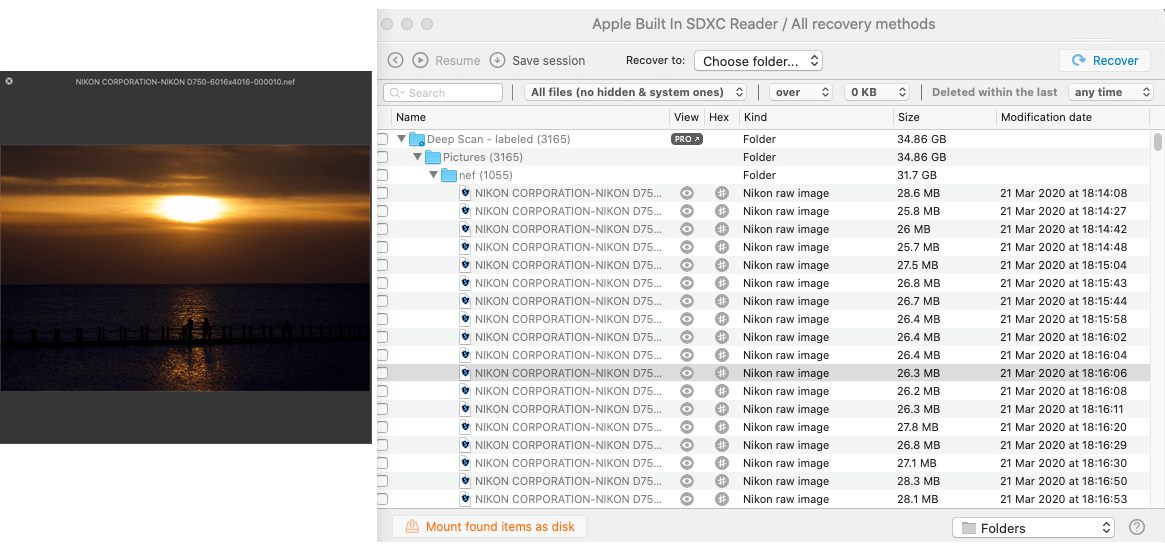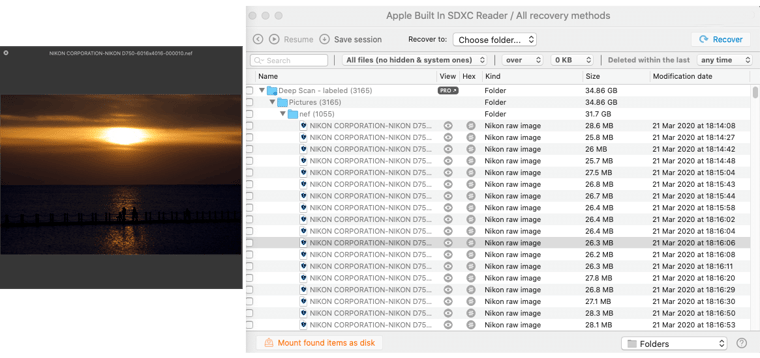 To recover the files once you have a licence is to simply select the files or directory you want to recover, set where you want to recover the files to and hit recover.
Depending on the file sizes and quantity will dictate how long the recovery process will take to get back your files.  In my case it took around 15 minutes.
I then performed the exact same test on the SanDisk Extreme PLUS 128GB Micro SD containing 59 .DNG files and 13 .MOV files.  This took around 32 minutes to perform a deep scan of the memory card but it performed excellently and found all the files ready for recovery plus others from previous formats.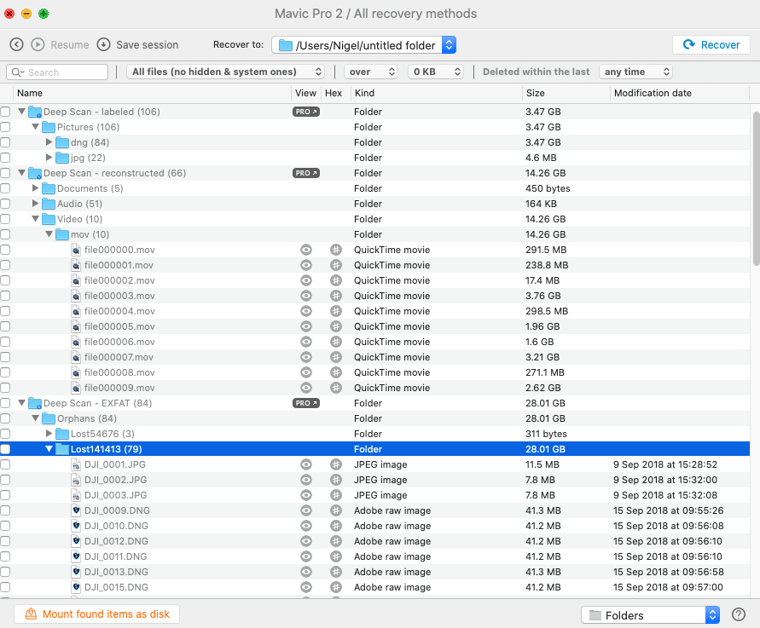 Overall performance was good and it recovered all files and more from all memory cards after carrying out both types of formats.  As I like to say it did exactly what it says on the tin although not for free!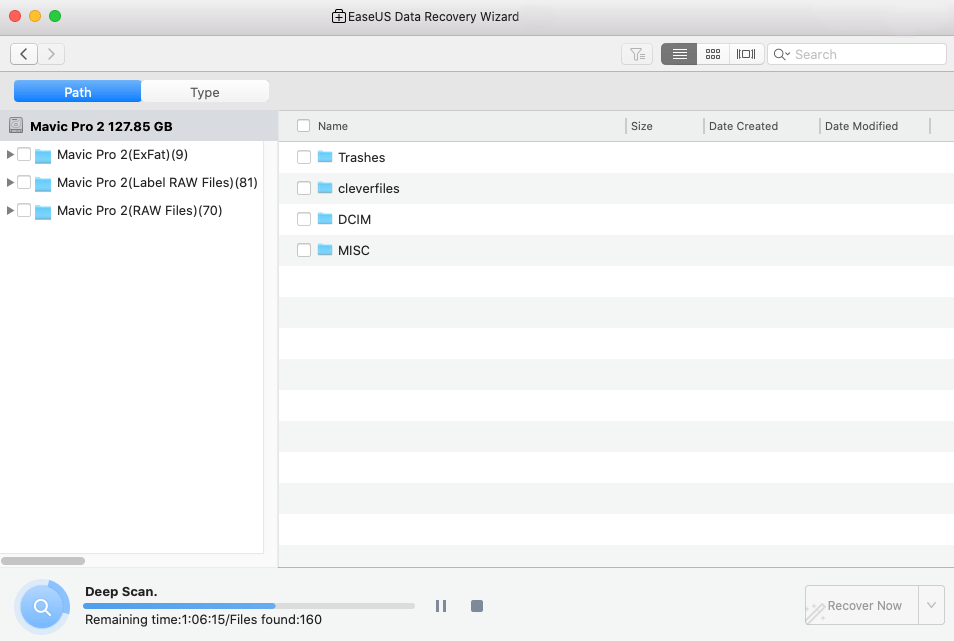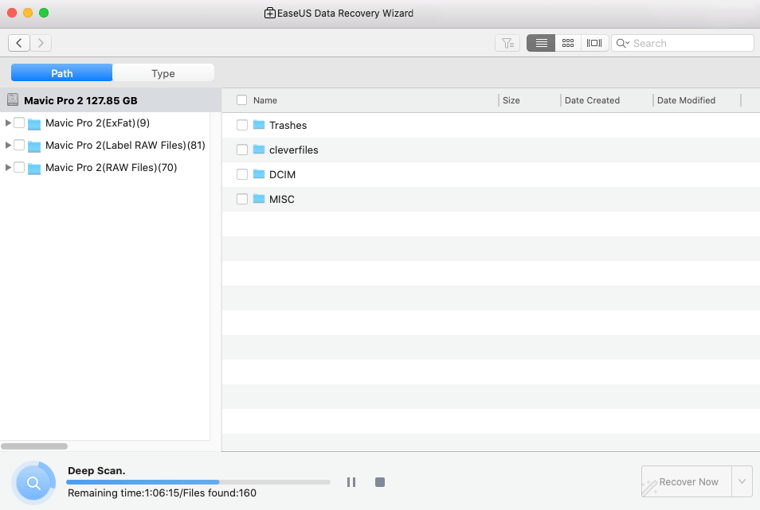 Labelled as a professional data recovery package for Mac, EaseUS Data Recovery Wizard claims to retrieve photos, videos, music files, documents, emails, and more from Mac-based devices: HDD, SSD, fusion drive, Time Machine backup drive, SD card, memory card, USB drive, camera, etc.
This software is not cheap though and the company offer 3 types of licensing ranging from $89.95 per month to lifetime membership with upgrades at $169.95.
So how does it fare in my tests let's find out.
EaseUS Data Recovery – Installation
To install the software is as simple as downloading it from their website and installing it like any other .dmg file.  It took around 2 minutes to install then I was up and running.
The first thing I noticed about the software is that it has a very simple interface which is simple to use and intuitive.
EaseUS Data Recovery – Test Results
It took around 6 minutes to perform deep scans of the SanDisk Extreme 32GB SD Memory Cards where it found all of the Nikon Raw files that had been deleted by both types of formats and more of the old previously deleted files.  The total size of recovered data was 37.38 GB in a total of 3245 files.
I then performed the same tests on the SanDisk Extreme PLUS 128GB Micro SD containing 59 .DNG files and 13 .MOV files and pleased to say it also recovered these without any problems and took around 30 minutes to perform the deep scan.
The total result was 358 files found totalling a size of 66.98 GB.
A fantastic part of the software interface is that you can very easily change the file view to thumbnails which makes searching for the files you want to recover a breeze and one thing that I really like about the software.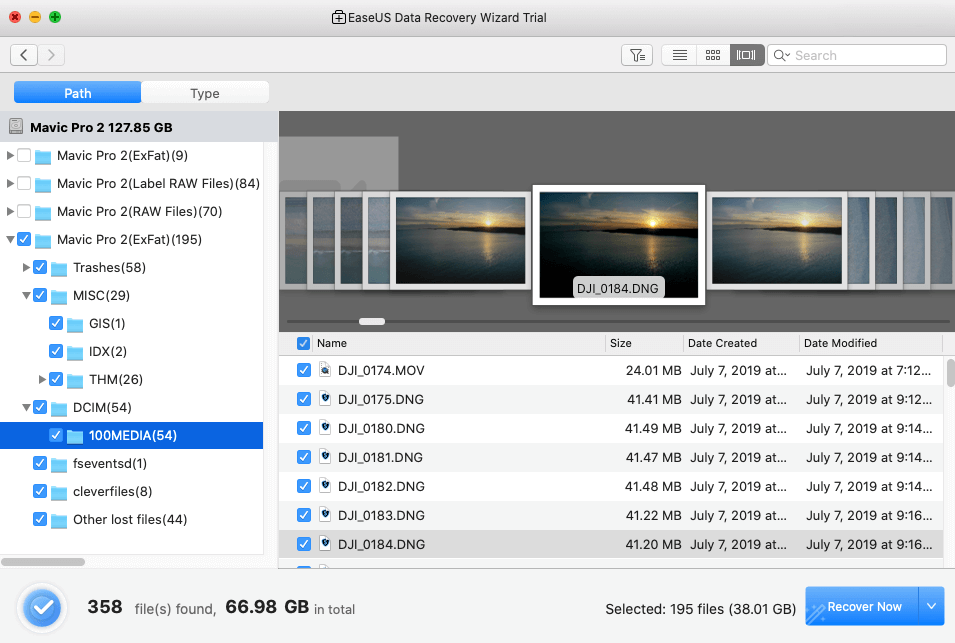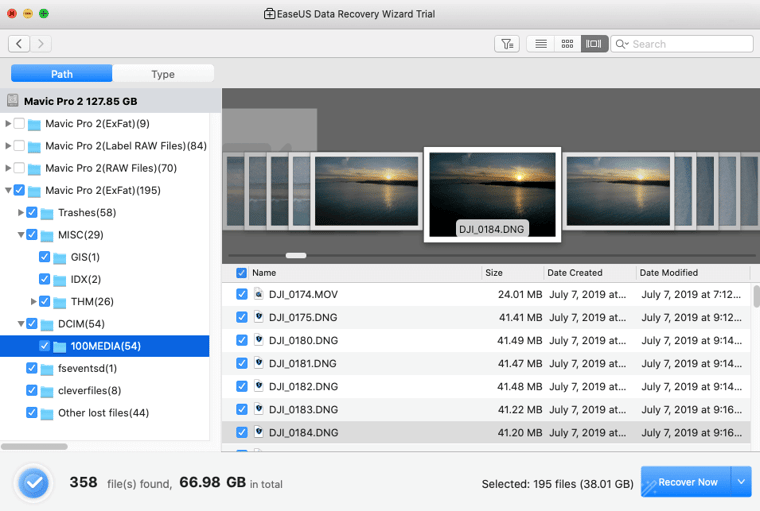 Overall results were good giving me an effortless file recovery process with a good interface to hone in on the specific files I was looking to recover.  Top result!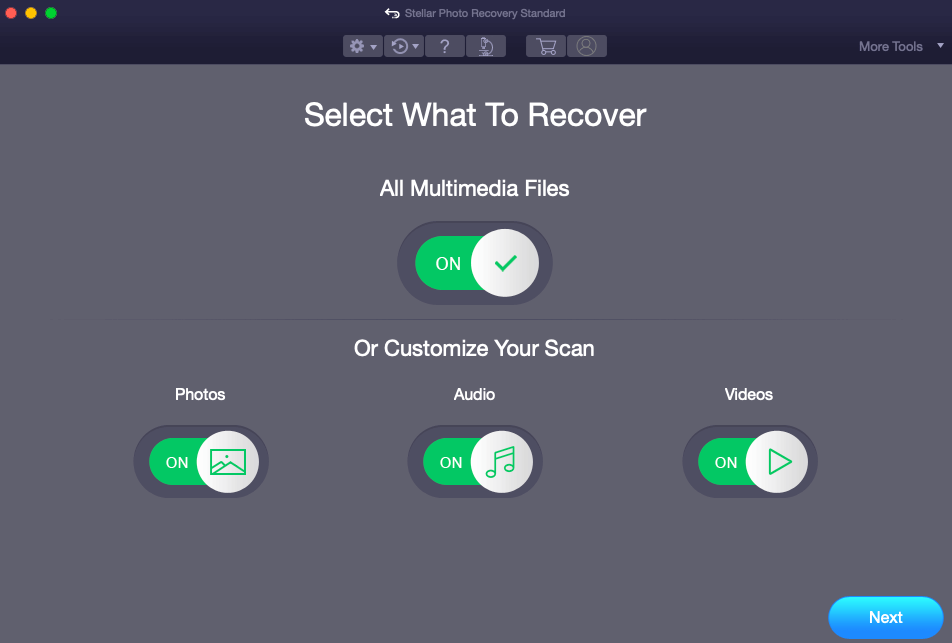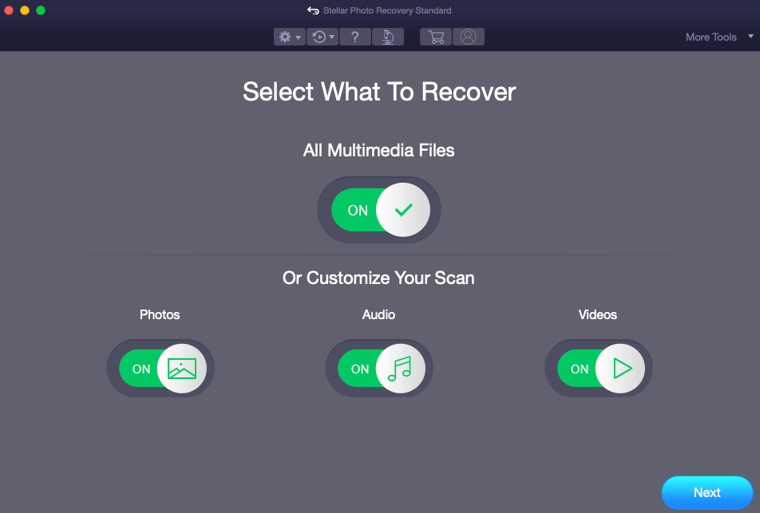 Stellar Photo Recovery is software that claims to recover deleted photos, video files and audio files from any storage media.
✔  Works with all memory cards & HDDs — SanDisk®, Kingston®, Samsung®, Seagate®
✔  Supports popular camera brands — Nikon®, Canon®, Sony®, Kodak®, Olympus® etc.
✔  Supports action & drone cameras — GoPro®, Garmin®, Phantom®
Supports all known types of file formats:
✔  Recover deleted photos – JPEG, JPG, TIFF, BMP, GIF, PNG, PSD, Adobe EPS etc.
✔  Recover camera RAW image files – CR2, ERF, RAF, K25, NEF, ORF, SR2, etc.
✔  Recover video clips & movies – MOV, MXF, AVI, ASF, WMV, MP4, 3GP, etc.
So let's test how good the software is and see if it really does what it claims.  For these tests I have been using my Standard version of Stellar Photography Recovery for MAC OS and will perform the same tests with the exact same formatted SD memory cards for Nikon and formatted Micro SD card containing DJI Mavic 2 Pro video files.
Stellar Photo Recovery – Installation
The same as EaseUS the installation of the software was very simple and straightforward by simply downloading the .dmg file and installing the software.  Hassle free with no issues I was up and running in a couple of minutes.
Stellar Photo Recovery – Test Results
The one thing I do like about the Stellar software is that is very simple and straight forward to use.  Upon launching the software you simply select the drive you want to scan, I found that you need to have deep scan select and then hit go and the software will work its magic.
I found it took around 12 minutes to complete all its scanning phases of the card to find the files to recover.  Bear in mind this will be much longer if you are scanning larger drives such as hard drives or large memory stick.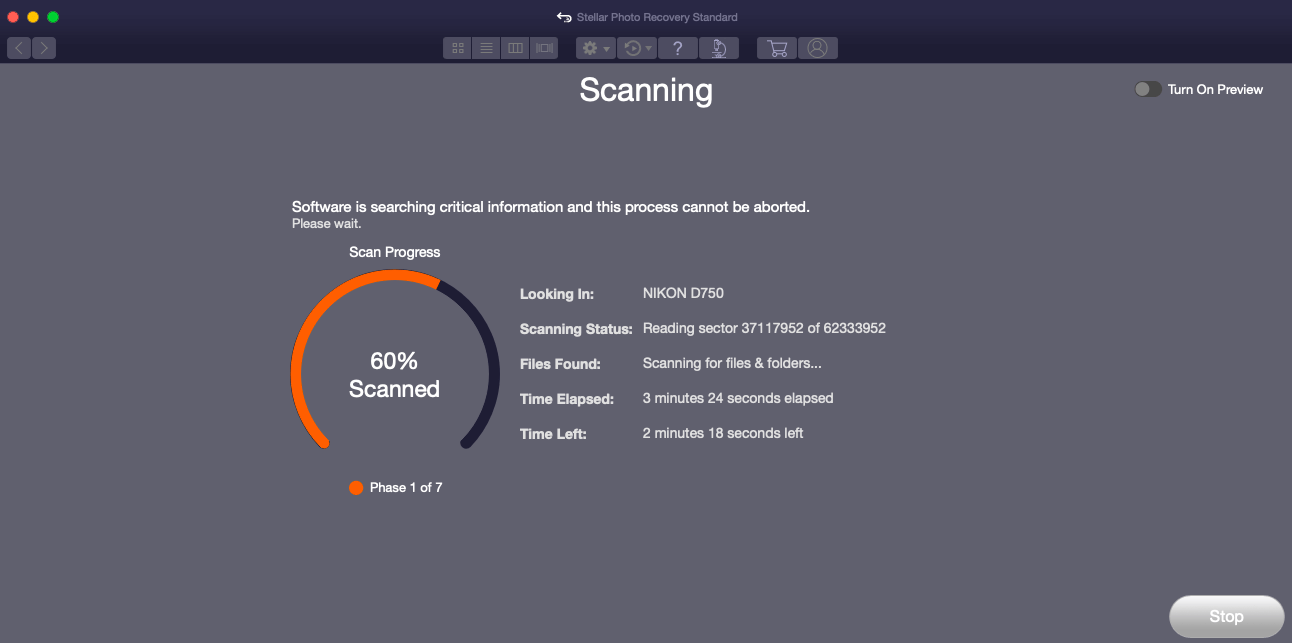 So how did it do? Well it recovered 2175 files in 9 folders totalling 41.64 GB data.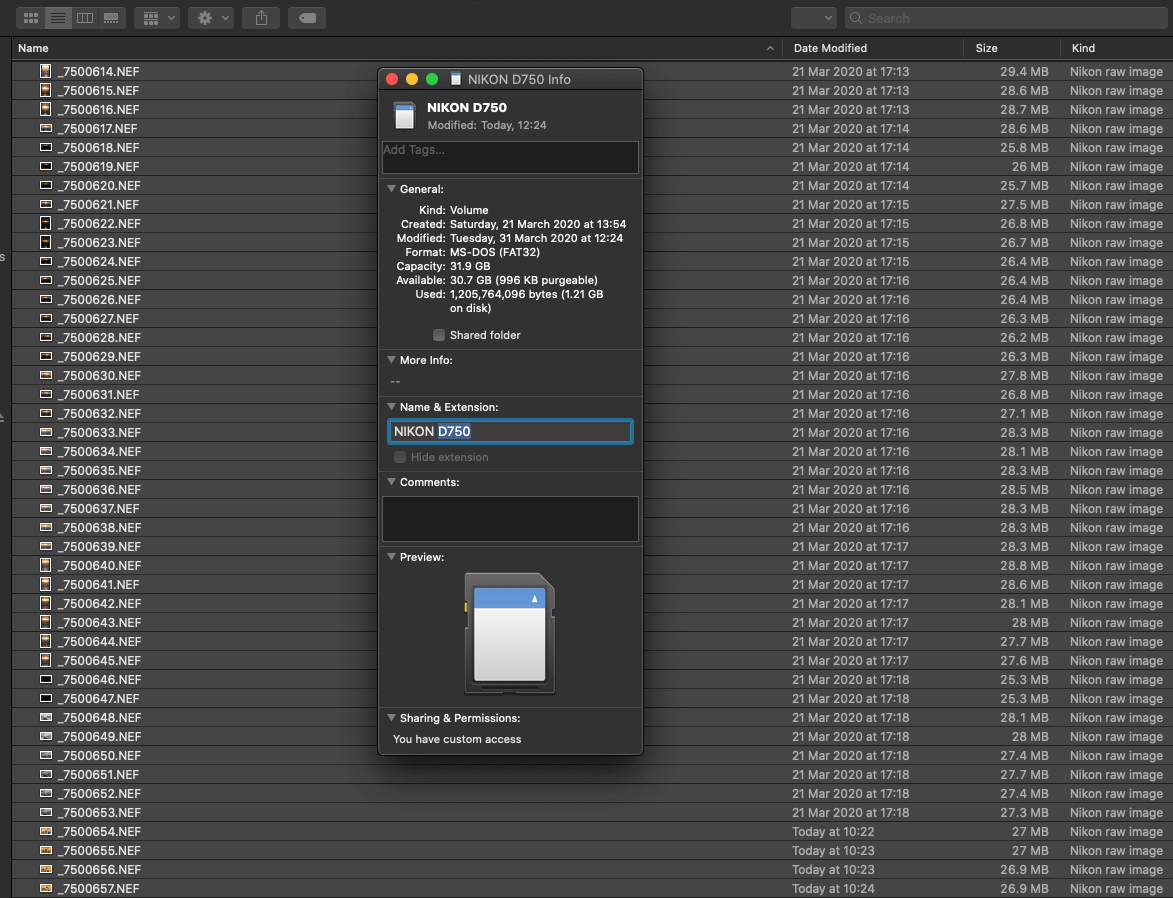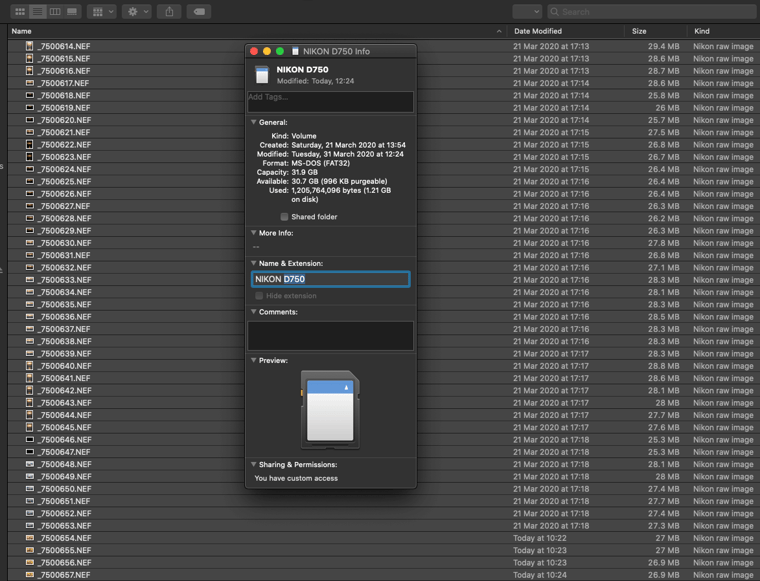 To recover your files you simply hit the Recover button and it will ask you where you want to recover your files to.  Select or create a new folder and then select recover.  At this point I would go make yourself a nice cup of coffee as this took around 20 minutes for this 32GB memory card.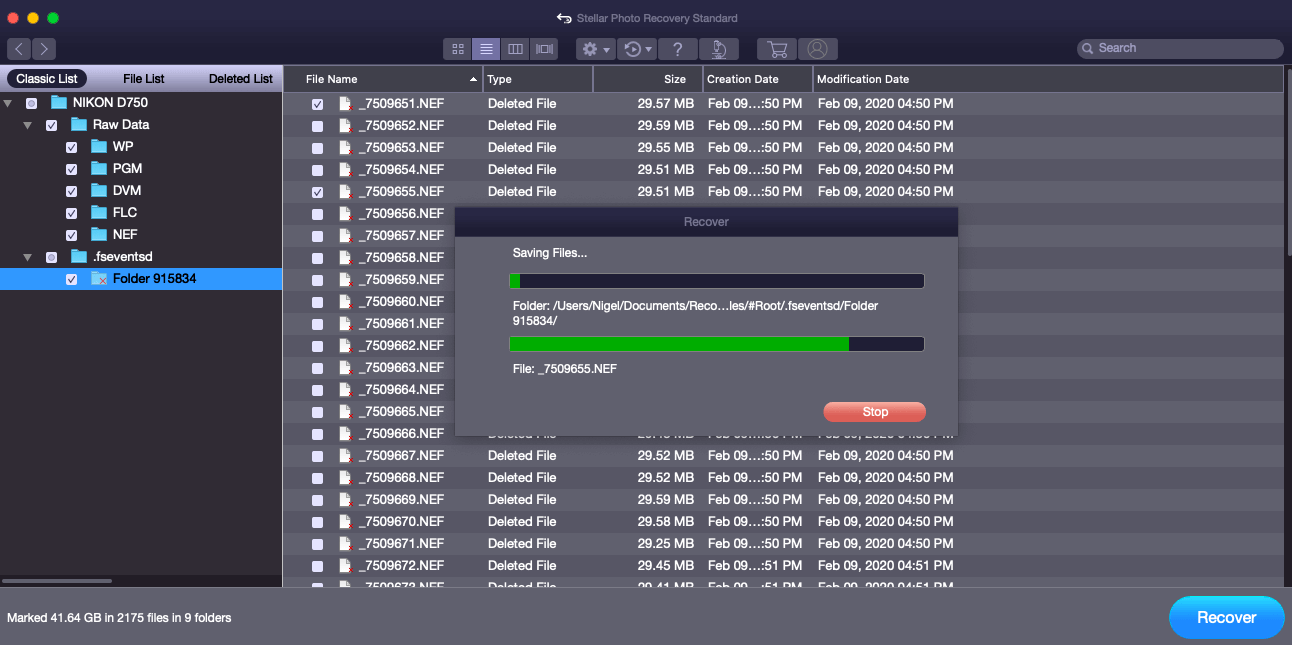 The result was 1058 .NEF Raw files recovered along with 1058 matching .JPG files. This included all the original 44 Raw files and more which open perfectly in Lightroom and Photoshop as if they were never deleted.  Performing the same test using the MAC DiskUtility Tool to format the memory card I got the same results and the software fully recovered all of the deleted files.
For my final test I wanted to check how good the Stellar Recovery Software was at recovering video footage from my DJI Mavic 2 Pro micro SD card once it had been formatted.  Hopefully I will never have to use it but it is something that I do regularly so it will give me peace of mind if ever I make a stupid mistake in the future.
Same as the previous tests for Disk Drill and EaseUS I formatted the SanDisk Extreme PLUS 128GB Micro SD containing 59 .DNG files and 13 .MOV files all taken by the Mavic 2 Pro Drone.
So how did it perform? Miserably!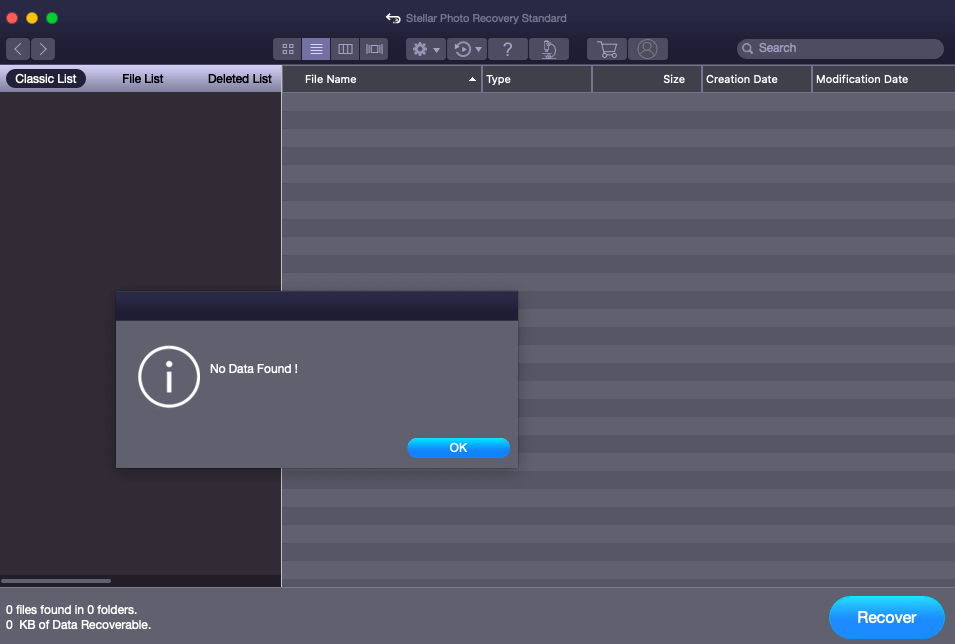 This is where I ran into serious problems!  I thought I would try it again with slightly different settings but when I went back to the storage device screen the card was no longer visible.  If I selected 'can't find device' it could see the card but it would not let me perform a deep scan and gave me the same results.  It basically found no files.
I then inserted the other SD memory card that had worked previously and it could no longer see it and once again if I selected 'Can't Find Device' it could see it but not allow me to perform a deep scan.  The results were also that it could no longer recover any files!
Thinking that it could be a problem with my Mac hardware I did a complete reboot but this still didn't rectify the problem. In the end I resorted to totally reinstalling the software which fixed the issue with the SD memory and it was now showing up in the device screen correctly.
So I thought I would give it another go and swapped out the camera SD card for the Micro SD card from the Mavic 2 pro with exactly the same outcome, it totally messed up the software and I was back to square one where it could not recover any files.
I have since sent two emails to Stellar explaining the problem in-depth and asking them if they had any thoughts on why this could be happened.  I have had an acknowledgement to my emails explaining it is taking them longer than usual to look at the issue due to Covid19 which I think is perfectly acceptable and will update this post once I get a resolution.
Which is my software of choice and overall winner?
Installation:  For ease of installation I would say that both Stellar and EaseUS are on par with each other and its simply a case of running the downloaded file and then dragging across the .dmg file into your applications folder like any other piece of software.  Disk Drill has an extra step in the setup where you have to configure your security settings to give the software access to your hard drive.  There is a link in the setup window and takes just seconds to do so it certainly is not a deal breaker, just an extra step.
User Interface:  The most attractive interface to use is Stellar it looks good and very easy to use.  I don't feel that this is a major factor though as both Disk Drill and EaseUS have more than adequate user interfaces which are very simple to use.  Overall from a user perspective I would say that EaseUS Data Recovery Wizard wins purely down to its file preview front end. This is really nice and makes browsing through the discovered files a breeze enabling you to easily select the files you want to recover without the need to recover everything.
Overall Speed:  Well EaseUS just edges it for me over Disk Drill and again there is not a lot in it but I found EaseUS marginally quicker.  Stellar Photo Recovery came 3rd in my tests taking the longest to deep scan the memory cards and recover the files overall.
Overall Performance:  I couldn't really split the difference between Disk Drill and EaseUS as both recovered all the files I was after and more.  Stellar failed miserably and although gave good results for the SanDisk Extreme 32GB SD Card it totally fell over when using the SanDisk Extreme PLUS 128GB Micro SD Memory Card.  In my tests both Disk Drill and EaseUS totally out performed Stellar.
Software Costs:
Stellar Photo Recovery Tool comes out the cheapest with 3 options Standard, Professional and Premium.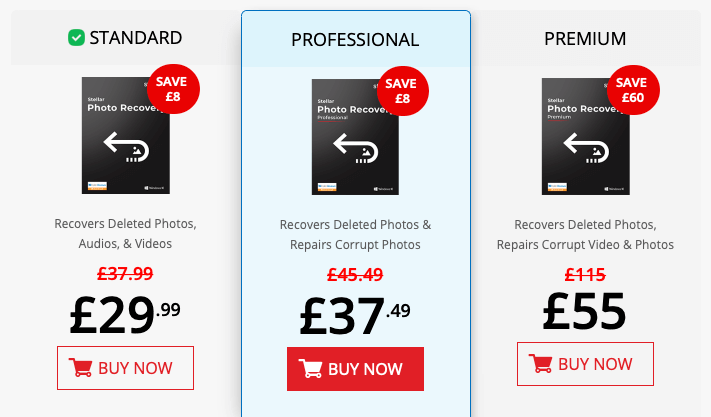 ---
Disk Drill comes in second with 3 different cost options, Basic, Pro and Enterprise.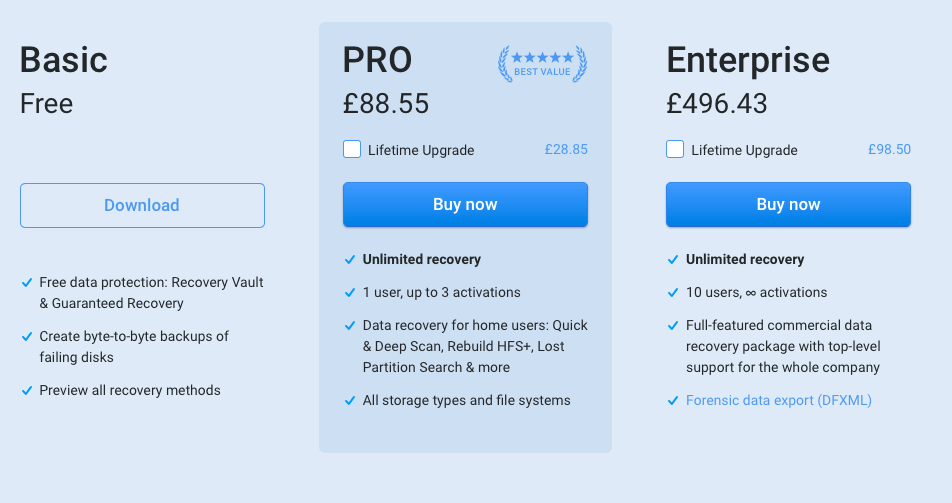 ---
EaseUS Data Recovery Wizard came in third with 3 options, 1 Month, 1 Year and Lifetime Subscriptions.

---
Overall Winner:
My overall recommendation goes to Disk Drill and my deciding factor in this is purely down to cost.  I like the EaseUS data recovery wizard, it looks great and performs well but it doesn't warrant the extra outlay in my opinion.
I really wanted to like Stellar Photo Recovery but it just did not perform well on the micro SD memory cards at all when trying to recover my Mavic 2 Pro video footage.  At a sensible price with a beautiful simple to use interface Stellar could be a winner if they manage to resolve my issue with the Micro SD Card and I will update this post accordingly once I get a some more information.
I hope you find this useful if ever you accidentally delete your prize winning photographs. Feel free to let me know in the comments below if you have any other software recommendations.