Whenever Instagram becomes a topic of conversation when talking to fellow photographers you usually find that they fall into two camps of either lovers or haters.  I am certainly in the lover camp and think it's a great way to get your images out there, so I have compiled a list of Landscape and Nature Photography hashtags to help improve your audience and get you noticed.
Why should photographers use Instagram?
To increase you audience and get you images seen
Increase your photography brand awareness
Increased eyes on your work could lead to increase in sales
Develop a fan base and personal engagement
Make new friends
Gain new fresh and exciting ideas
Discover new locations to explore
Get inspired by fellow great photographers
These are just a few reasons off the top of my head why a photographer should use Instagram but there are many more.  I have found that since joining Instagram it has certainly increased my profile as a photographer and I love chatting to fellow like-minded people and over the years have made some great friends.
There are not that many good social platforms out there these days for photographers and I find Instagram a much better platform for my images than Facebook.  Let's face it Instagram is designed and built for displaying and sharing image content and the platform is great for this.
I have certainly fallen out of love with Facebook as a platform for my photography and certainly don't appreciate every time I post something up I just get emails from them saying hey for £10 your latest post can reach 5000 people!  Let's just hope that Instagram doesn't end up going the same way, but I have a horrible feeling eventually it will.
With more than 800 million monthly users you can see how Instagram is a great marketing platform and my advice is present your best work to give you the best chance of being spotted.
I would encourage any photographer to use Instagram, especially while you can but don't become a slave to it at the sacrifice of more important platforms for your business such as your own website which you will own forever.
How can a Photographers use Instagram?
There are many ways in which you as a photographer can use it and I know several photographers that actually own more than one account, one for their best images and the second for a more frequent what they are up to behind the scenes sort of thing.
I think either or both are great ways of gaining exposure for your business, but I personally use Instagram to show just my latest work and although I know I don't post often enough I find it works great for me.
What is an Instagram Hashtag?
As you begin to scroll through the thousands of images on Instagram you will notice straight away that hashtags are everywhere but you need to know how to utilise them correctly to get the best out of them.
It can be so tempting to just throw a dozen random hashtags on your images to quickly upload them and hope for the best but it is worth taking that extra time to build a hashtag strategy.  If your business has a brand name take the time to think of something original and recognisable that can easily identify your brand.
Hashtags will make your content easier to find
Think of a hashtag as a keyword that identifies your content that relates to its topic and what it represents.  It is not good enough to create beautiful images with killer captions if no one can find it amongst the millions of other images.
This is where the hashtag comes in sort of like the index page of a book where you could just search for say #Nature and it will display all the content that has been posted against that hashtag to filter out everything else.  The more specific the keyword the more specific the search results so you can use something more specific like #NatureWalks or #NationalParks you get the idea.
Rather than just identifying your beautiful photographs with content identifying keywords it is also a good idea to use a hashtag of the location and name of the subject to make it easier for people to find.  Say you have a beautiful photograph of a mountain landscape but rather than just use #mountain you should also be specific like #Snowdon and #Snowdonia.
The best thing to do is try it yourself and think if I want to see content like mine what hashtag would I use to search for it?  Think of it being similar to typing in a keyword into your favourite search engine to find the content you are looking for.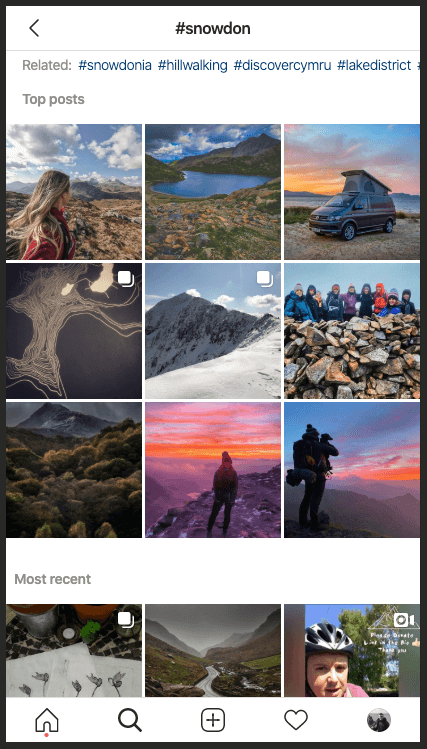 Why you should use Instagram Hashtags
Using a hashtag makes your content easier to find and will put your content in front of an audience that wants to see it making it discoverable.
Now it can be discovered by people that are interested and will encourage and increase engagement on your posts.  Hashtags increase audience engagement that is fact and a lot of people that use Instagram will follow popular hashtags that they are interested in.  So like the previous example if you love the mountains and the national park of Snowdonia in Wales you can quite simply set Instagram to follow the hashtag #Snowdonia so your feed always displays fresh content postings from this hashtag.
Word of caution here though don't just blindly fill your content with the most popular hashtags because if it is getting thousands of images using it your content maybe only displayed in top new posts results for a very short period sometimes just 30 seconds on popular tags due to new content constantly being uploaded.  It is all about finding the perfect balance so a less popular hashtag is worth serious attention.
Instagram does use algorithms to gauge popularity and will try and promote the most popular content so as your followers grow the more like a post gets in the first 10 minutes the more popular instagram will think your content is.
Like many social platforms unfortunately it is a business and people forget that instagram makes money through engagement and advertisement so if they think your content will be just skipped over and not worthy of peoples attention they won't push you to the front of the queue of more popular content.  No one truly knows or understands Instagrams algorithm and in my eyes pointless to even try!  Just post great content and be sensible in choosing hashtags and you will increase your exposure no problem.
How to get featured on other popular accounts
This is a great way to get your images out there in front of thousands of interested people and something I highly recommend you to do which will accelerate your audience and followers.
There are many such accounts out there so I would certainly do your homework and these range from location such as #ukpotd (UK Pic of the Day) which has over 40K followers to something like @woodlandtrust which has over 200k followers.
All you have to do is simply check what a specific account is looking for which is usually their unique hashtag and tag them in your image.  For instance @woodlandtrust simply use #WoodlandTrust and if you manage to get featured they will publish your image on their feed giving you an instant 200k+ exposure boost!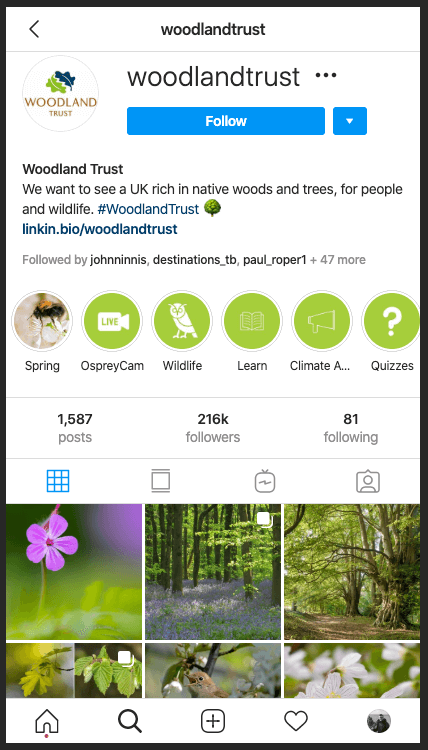 My advice is that you find a list of accounts that you would like to be featured on and work on these.  Be mindful that these accounts probably have hundreds of images a day to search through so there is no guarantee you will be listed but don't be disheartened because once you can get featured you can definitely reap the rewards of gained exposure.  You can find various feature hub lists at the bottom of this post to get you started.
How many Hashtags can I use?
You can currently use up to 30 hashtags on a single Instagram post but I would be wary of using all of them otherwise it can look a little spammy.  Also don't use hashtags just for the sake of them, keep them on topic and related to your content.  I find anything from around 5 to 15 works just fine.
What is Instagram Stories?
Instagram story is a way of sharing photos and videos with your followers for up to 24 hours.  This is great to use while out on location or for anything that you don't want to stay on your main feed until you delete it.
I have to admit I don't use this feature as much as I should but it can be a great way to get and keep your audience engaged in between posting epic images.
To add media to your stories it's as simple as Tapping the '+ Your Story' in the top left hand corner of your homepage. From here you can simply capture new content within the app to post or select it from your photo library.
Within the app itself there are a number of multiple editing options to add filters or text so you can get in touch with your creative side and make something interesting stand out.
What is the best time to post on Instagram?
Well there are many schools of thought on this and guess it depends on where you are located in the world.  My personal thought are that you want to post when most eyes will be on your content so 7:30 – 8:00 am or 6:30 – 7:00 pm seem to work best for me with my logic being that most people will either have just travelled to or from work and having a quick catchup checking their feeds.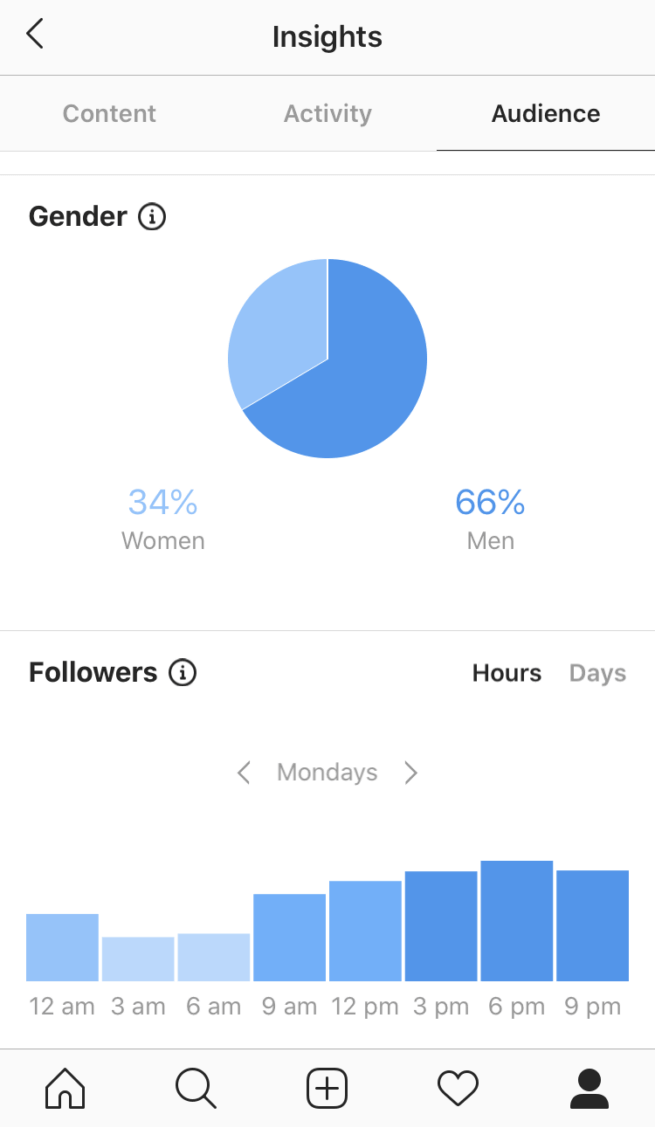 So here is a list of top Feature Hubs for different genres of photography and popular hashtags to get you started.
Feature Hub Accounts which will feature your content
Top Nature Photography Feature Hub accounts
@woodlandtrust @nature_brilliance @fiftyshades_of_nature @tv_allnature @bestnatureshot, @natureprimeshots  @naturehippys_  @ig_naturelovers @bns_nature @nature_perfection @Fotofantastics_nature @awesupply @thevisualscollective @stayandwander @adventurethatislife @germanroamers
Top Landscape Photography Feature Hub accounts
@Capturelandscapes @Jaw_dropping_Shots @World_Shotz @ic_advendtures @Global_Hotshotz @justgoshoot @thepeoplescreatives @thevisualscollective @discoverearth @visulas.collective
Top Astrophotography Photography Feature Hub accounts
@astro_photography_  @milkywaychasers  @nightviewplanet  @universetoday
Top UK Photography Hubs
@bestukpics  @britains_talent @lovegreatbritain @britains_talent @loves_united_kingdom @ukpotd, @photosofbritain @uk_greatshots @instabritain @uk.shooters @explore_britain_ @visitengland @gloriousbritain @ukscenery @topukphoto @scenicbritain
Genre specific feature hub accounts
@nightphotography @passionpassport @gastroart @uglyshape @bnw_planet @wedphotoinspiration @1.perspective @accidentallywesanderson @music @portraitmood @thevreatorclass @flatlayforever @polaroidoriginals @visuals.collective @macro_spotlight @fromwhereidrone @brutal_architecture @still_life_gallery_ @justgoshoot @relax_yourincali @the.street.photography.hub @caferacersofinstagram @citybestviews @iseeminimal @thefilmcommunity @theoutbound @bestvacations @worldtravelbook @monoart @waitingontheworld
Top Hashtags to use for your content
Nature Photography Hashtags
#Nature #naturephoto #naturephotography #naturel #NatureLovers #Nature_Photo #IGNature #Nature_Of_Our_World #NaturePerfection #nature_perfection #Natureshots #natureshooters #NatureDaily #WorldNature #NaturePic #NatureInstagram #Nature_Perfection #NatureCapture #Nature_Shots #natureisbeautiful #Nature_Seekers #nature_hub #IGNatureCapture #naturfotografie #Natureporn #NatureIsArt #Nature_Brilliance #NaturalWorld #BNS_Nature #FiftyShadesOfNature #ColoursOfNature #Nature_Worldwide_Miracles #Natureaddict #Naturegram #Natureonly #Naturewalk #animalphotos #animalphotography #animalsofinstagram #birdsofinstagram #animalsultans #exclusive_animals #birdphotography #discovertheworld #explore_wildlife #featured_wildlife #igscwildlife #live_love_wildlife #marvelshots #marvelouz_animals #ourplanet #wildlife_inspired #wildlife_seekers #wildlife_shots #wildlifeperfection #wildlifephotos #wildlifephotography
Landscape Photography Hashtags
#LandscapeLovers #BeautifulLandscape  #Viewpoint #NakedPlanet #LandscapeHunter #Sky_Captures #ScenicView #Cloudscape #SkyScape #Mountains #LandscapeShot #Landscape_Specialist #Splendid_Earth #Outdoors #Earthpix #DiscoverLandscape #AwesomeGlobe #IGRefined #Earthescope #discover_earthpix #landscapetreastures #landscapeoftheday #landscape_capture #landscapephotos #landscapes #next_landscape #splendidreflections
Hashtags for Astrophotography on Instagram
#astrophoto #astrophotography #milkywaygalaxy #milkywayphotography #nightsky #night_captures #nightshooters #nightscape #nightscaper #spacephotography #starphotography #starrynight #starscape
I hope you find this list helpful and if you want to say hi or thank you follow my instagram @nigelwaters.photography
With years of experience and a number of award winning photographs Nigel Waters is a UK landscape photographer based in Worcestershire.  With a passion for the great outdoors and continually chasing the light to capture beautiful photographs his landscape, seascape and nightscape photography will give you inspiration to get out and explore the best British landscapes have to offer.