Spring is nearly officially here!!!
For me it is a little disheartening as I have a couple planned location shoots that have been parked now for the last couple of months due to weather and other commitments.   One thing about landscape photography is at least in this particular case the mountains won't be going anywhere soon so there is always next year if we don't have a good snow fall before summer arrives.  Having said that I have been up there waste deep in snow during late March/April so fingers crossed.
This week I set out with the intention of something a little different and head to Gloucestershire to photograph daffodil fields in full bloom for spring.  Not my usual style of Photography but I made a new years resolution to myself to try and be a little more diverse in what I shoot from time to time.  I set out at midday so I could have a relaxing walk and setup ready for sunset but due to SatNav problems and 30 minutes driving round in circles I found myself back on the M50 heading to the Breacon Beacons.  I just can't help myself can I??  I knew I had a few routes loaded into my GPS which I had previously planned and never got round to walking and after an hour I found myself parking up on the busy A470 to do a 5 mile circular hike up to Fan Frynych.  I had not done this route before and with time getting on and the route being relatively short it was worth a go.
There are a couple of routes here where you can have a wonder around the lower level route amongst trees in the shadows of the cliffs of Craig Cerrig Gleisiad and a couple of streams or you can take the high level route climbing up above and walking around the top up to Fan Frynych which is the route I took.  The initial climb is a steep thigh burning one but the views across to Y Gyrn and Pen Y Fan are stunning but it was cold, wet and very windy and I couldn't find any foreground interest to get a decent shot so I carried on round up to Fan Frynych.  The views from here are gorgeous with the large rolling hills across to Fan Bwlch Chwyth and I presume views to the Black Mountains but the cloud cover was making visibility poor.  Although the view is magnificent I just couldn't find a composition and my fingers were about to drop off holding the camera so I decided to give it up and continue round and back down to the car.   I was then greeted by several wild horses which would have made a stunning photograph if only I had a longer lens with me….Grrr.
On the way back down the cloud was starting to lift and the sun slowly starting to break through where I stumbled across a couple of trees on the side of the mountain.  The sun was low and slowly coming round into view so with an hour till sunset I setup and waited in hope that the sun would illuminate a tree I really liked.  With the direction of the sun to my composition I knew if it played ball the photograph would be high in contrast as the sun illuminated the tree making for a nice black and white image and finally I was rewarded with this lovely shot.
The clouds lifted and I took a few more photographs but struggled to find a decent composition with the direction of the sunlight and capture the moment to do it justice but I did get a few nice shots.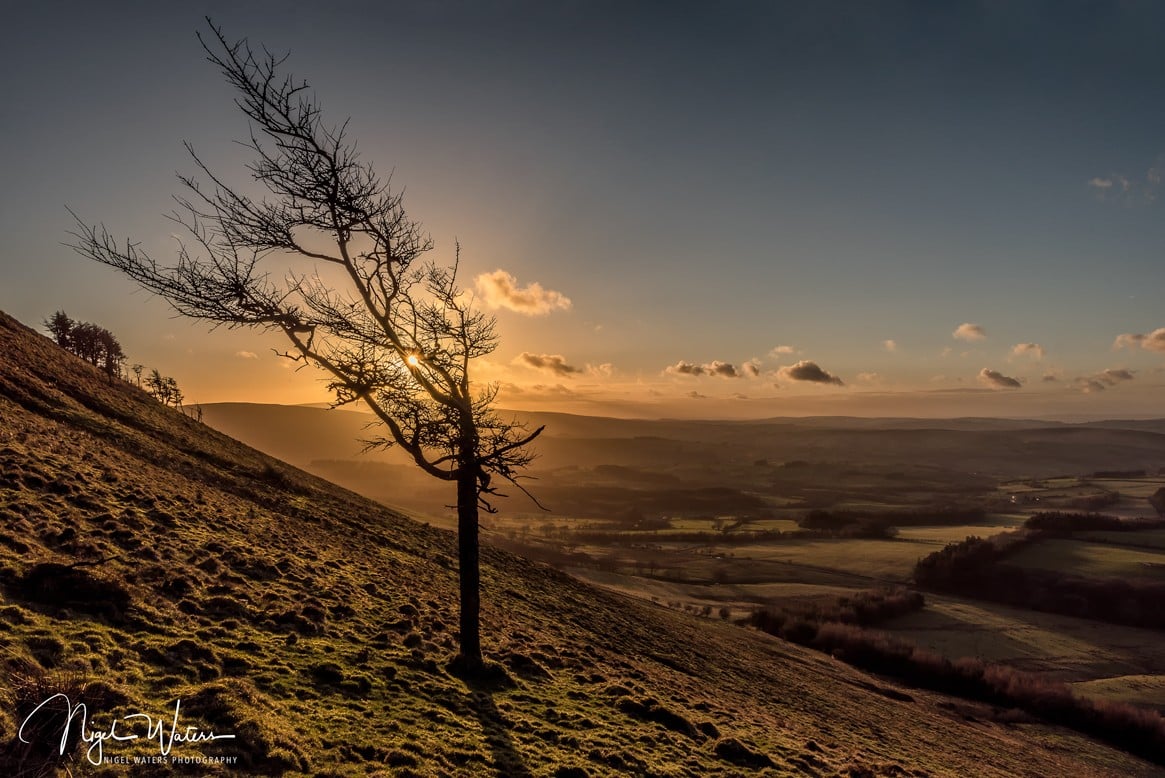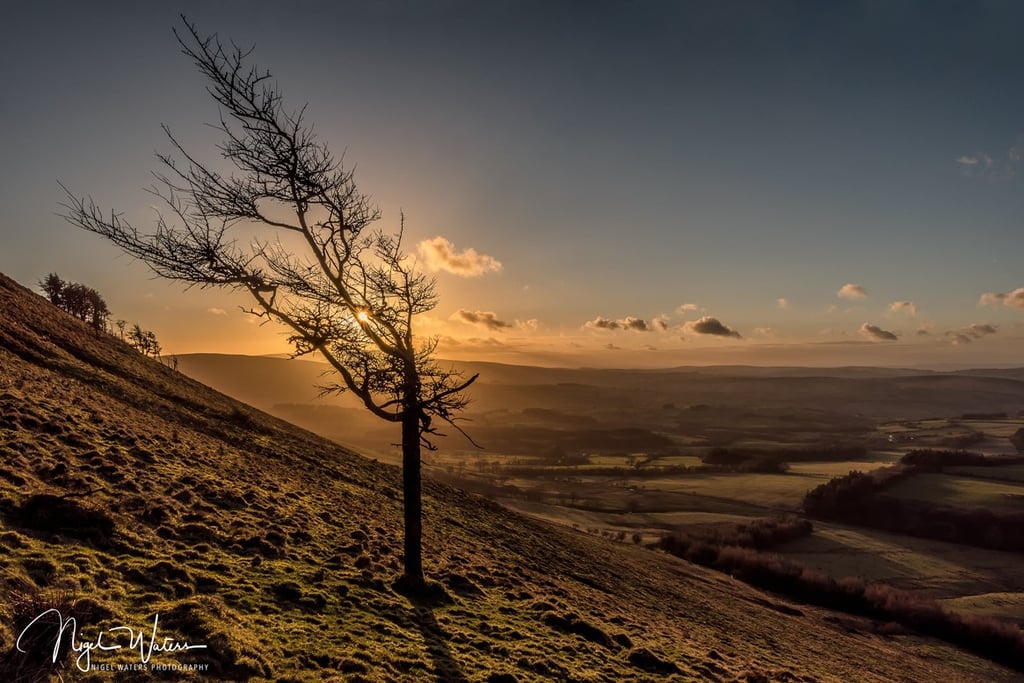 With years of experience and a number of award winning photographs Nigel Waters is a UK landscape photographer based in Worcestershire.  With a passion for the great outdoors and continually chasing the light to capture beautiful photographs his landscape, seascape and nightscape photography will give you inspiration to get out and explore the best British landscapes have to offer.